Easy Strategies to Find Your Bliss
CHOOSE HAPPY  shows you that tiny changes in our choices , create happier results. Sarah Gregg is a psychologist known for her ability to distill complex topics into simple, relatable stories and actionable strategies. In Choose Happy you'll learn how not to let the small things in life drive you crazy.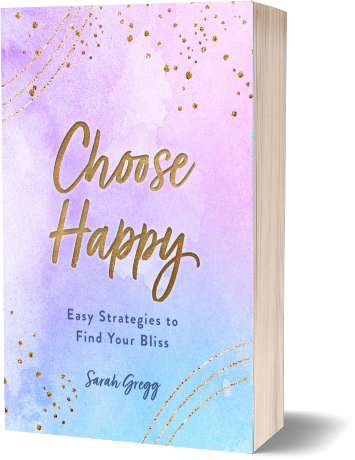 "Happiness is a choice,

not a pursuit"

– Sarah Gregg
So many of us would like to live happier lives – full of joy, contentedness and hope. But somehow the small things in life get in the way – like comparison, our inability to forgive, let go, handle uncertainty or manage our inner critic.
Sarah Gregg uses her friendly, encouraging style to break down positive psychology research and strategies for a happier life. This book simplifies happiness & makes you feel good with every turn of the page.   Whether you dip into these pages when you need it or read it from start to finish – Choose Happy will bring a sense of joy & bliss to busy, stressful life.
With practical strategies, daily tips and reminders all based on proven positive psychology, Choose Happy shows you that tiny changes in choices can bring happier results. 
"Happiness and freedom begin with a simple clear understanding of one principle, some things are in your control. And some things are not"

– Epictetus
In Choose Happy, psychologist Sarah Gregg will guide you through the science of choosing happy, sharing how to overcome the common roadblocks to happiness.
This uplifting, encouraging and relatable book will share with you how tiny changes can bring happier results.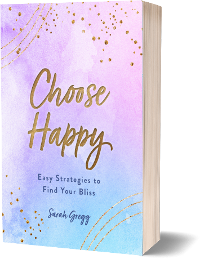 You'll learn how to learn from your past, believe in your future and enjoy your present. Through short, easy to read sections you'll learn the simple psychology to help you:
Break bad habits
Feel happier
Let go of anger
Befriend Fear
Silence your inner critic
Reach for happier choices
Feel enough
Stop comparing yourself to others 
Hi, I'm Sarah, the author of Choose Happy,  Find Your Flow and Founder of The Power to Reinvent. 
In our busy, changing, fast paced lives it can feel hard to choose happy.
In this reassuring book, I show you that tiny changes to our choices can bring happier results.
This book is a no-nonsense guide to happiness which directs our focus to what we can control in our messy, often unpredictable lives. Choose Happy provides clear, practical strategies to help us make happier choices.
It's the perfect book to reach for when life feels frustrating.